Hair is subject to women's beauty and self-esteem. Good hair is something that all women want. Every woman seeks long, smooth and shiny hair. Hair is essential in many ways as it represents femininity, beauty, freedom, and liberation. Unfortunately, some women and girls do not have long and thick hair. For them, hair extensions can prove to be a life-changing hack. 
There are many types of hair extensions, and the Peruvian ones are one of the most demanding. It is because of their quality and long-lasting characteristics. But, getting this kind of hair can be hard as it is readily available on the market. Here, we will explain Peruvian hair, its types, and the steps to care for them. Additionally, you will know where to shop for the best quality hair. 
What is Peruvian Human Hair?
Peruvian hair is the most popular in the most sought range of human hair extensions. The reasons behind it are that they are easy to manage, versatile, comfortable, nicely coarse, and have a sleek and smooth texture. The 100% Peruvian human hair looks natural unless you tell someone it is an extension. 
You can wear these hair extensions and wigs for an everyday look. No matter if you even want to curl them for a night out or a date. These hairs have a long-lasting ability and retain their original texture and quality for more than a year. The hairs are also called multipurpose hair and are not chemically treated. Genuine extensions do not shed or tangle and offer the most natural-looking hair finish. 
What Are The Various Types of Peruvian Virgin Hair?
People significantly like Peruvian natural human hair because of its several quality features. These are long-lasting, offer excellent volume, and easily blend with any hair type. They are also super light in weight and look great, enhancing your overall beauty. 
However, it is crucial to choose the right Peruvian hair extension according to your face type, body structure, and look. A right extension adds more charm to your look. Below are the three types of Peruvian virgin hair that you can choose from. 
Straight Hair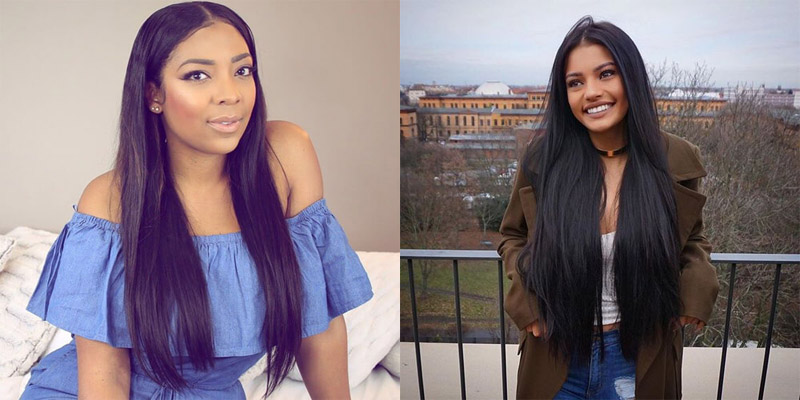 Straight Peruvian hair bundles made from Remy human hair are considered the best in the market. It is the healthiest form of hair that gives the most natural-looking hair. These hairs are silky and shiny and come in various lengths. They are long, durable, and allow you to achieve any desired look. 
These hairs usually come at affordable prices in comparison to other hairstyles. As they are straight, they do not get tangled easily and are easy to manage. If you have thin hair, 3-4 bundles of hair will be suitable, but if you already have voluminous hair, 2-3 bundles will be enough. 
Wavy Hair
These are one of the most exotic forms of Peruvian virgin hair. It has soft and silky curls and does not get tangled easily. It also gives you a natural feel with natural-looking hair. These hairs look voluminous and do not feel heavy on the head. They also have a light and super silky texture, and their cuticles run in the same direction. You can color and bleach these hairs without damaging their natural texture. 
Under Peruvian wave hair, there are many options to choose from, including loose wave, deep wave, body wave, and natural wave. These are versatile and do not require heavy maintenance. The hairs are the best option for busy women and girls that allows styling in minimal time. If you have average hair volume and length, 3-4 bundles of this hair type look fantastic. 
Curly Or Deep Wave Hair
Curly peruvian hair offers the best quality that naturally enhances beauty. These hairs suit all women and girls who want curly hair. The hair looks gorgeous and feels soft in texture when worn. Furthermore, they hold the curls very well and can further add curls even if they are still wet. The hairs easily hold the curls even after you wash them. The best part of these hair types is that they are shed and tangle resistant. 
A few bundles of this deep wave curly hair are enough to give your hairstyle a natural look. It may be voluminous; however, it is also easy to manage and require low maintenance. Peruvian hair curls give a bohemian look with a silky and bouncy feel. Its unique texture offers women a unique look. 
How Can You Care For Peruvian Hair Extensions?
Each day your Peruvian hair extension gets exposed to UV rays, bad weather, and sweat. So, whether it is Peruvian or other hair extensions, each one requires care to maintain its quality. It is essential to care for them to avoid irreversible damage to their natural hair.
Also Read:- Best Hair Extension Salon Middletown Delaware- Sinkor Hair
Good care reduces breakage and shedding of hair. It even keeps them flawless for a longer time. Good maintenance involves many processes, such as routine washing, conditioning, applying heat protectant sprays, etc. Below are some essential tips to follow to care for your Peruvian virgin human hair. 
Detangle Your Hair When Wet 
Always detangle the Peruvian human hair when wet to avoid excessive hair damage and shedding. The conditioner on the damp hair acts as a lubricant, making the detangling effortless. 
Removing the tangles when the conditioner is applied to the Peruvian hair will be best. You can use a paddle brush or wide tooth comb to eliminate tangles. Also, remove tangles from the end to the base of the weft to avoid excessive shedding. 
Gently Wash Your Hair With A Shampoo
Ensure to follow a gentle wash to clean the hair extension. Wet your hair with lukewarm water and gently apply the clarifying shampoo. Wash the hair using your fingers in a downward motion with a gentle massage. 
Do wash your hair roughly as it causes damage and tangling to the hair. After this, you must rinse the hair properly and clean it. Now, the next step is conditioning. 
Conditioning Your Hair Extension
Conditioning allows hair to remain soft, moisturized, and nourished. It will enable proper conditioning of your entire hair. You can use any regular or deep moisturizing conditioner to moisturize your hair; both work great. 
Always use a suitable conditioner and apply it from top to bottom of each bundle. You can evenly distribute your hair using a wide tooth comb and apply conditioner. Soak the hair sometimes and thoroughly wash it with water. 
Always Wash Your Extension With Cold Water
While cleaning your Peruvian hair extension, it is advisable to use cold water. You must never use hot water for the same as it can damage your extension. Hot water is not even suggested to wash your natural hair. 
The cold water helps close the hair's cuticles and retain the natural shine. It even makes the hair look healthier and last longer than possible. 
Protect Your Hair Extension From Excessive Heat
It is also recommended to avoid blow-drying your hair extensions. Exposure to high heat increases the risk of hair damage. It would be best to dry your hair naturally or use hooded hair dryers. 
While using any heat styling tool like a curler or straightener, always apply heat protectant spray on the hair extension. Also, ensure to apply medium to low-temperature heat. 
Always Use A Suitable Comb For Your Extension
A suitable comb is necessary to avoid the breakage of hair. It is suggested to use a comb with a wide tooth. You can even use a paddle brush to comb your hair and prevent it from hair damage and shedding.
Always comb your hair before sleeping and cover it with a silk scarf. It prevents the tangling or frizzing of hair while sleeping.
Where To Shop For The Best Peruvian Hair Extensions/Wigs?
Sinkor Hair offers an extensive collection of hair extensions and wigs. We provide healthy and lustrous extensions. No matter if you are looking for straight, curly, or deep wave extensions, we have covered all of them. Our hair gives you a natural, soft, and silky feel and easily blends into your original hair. 
Plus, the extensions are 100% virgin human hair that is unprocessed and completely intact. This hair can be given any style using any styling tool, such as straighter or curler. Also, the hair extensions come in double weft sealing to keep them properly intact. They are also shedding free with healthy ends and no spit ends.
Along with Peruvian hair extensions, we also provide Eurasian, Brazilian, and Indian hair wigs. Our store even features many accessories, hair pieces, frontals and closures, and hair care products. Visit the Sinkor Hair website to shop for the best premium quality wigs and extensions at good deals and discounts. 
Conclusion
Peruvian hair extensions are great for giving your hair any look. They even allow you to change the style per your wish and do not restrict you to stick to one boring hairstyle. Among all wigs or extensions, Peruvian is the customer's number one choice. It is known to have the highest quality virgin hair with silky and soft textures.
The various types of Peruvian human hair allow you to choose any curly or straight hairstyle. Their natural luster keeps your look natural and does not allows anyone to know that you are wearing an extension. Choose the best and desired extension style from an extensive collection of wigs or extensions. Shop for 100% virgin hair from Sinkor Hair online store. 
We provide tight curly, loose waves, deep waves, body waves, and straight Peruvian hair. These hairs look completely natural and can be restyled like your own hair. Also, they come with a double-weft and are properly cleaned. No artificial color or chemical processing is applied to the extension.
Frequently Asked Questions